Looking for your best job yet?
Be a part of our close-knit and diverse team. Come work with us!
Open Positions
What We Offer
Remote Work
Work from anywhere! We currently have employees in 9 countries.
Competitive Salary
We offer competitive salaries and career growth opportunities.
Parental Leave
8 weeks 100% paid, and up to 6 months off total.
Flexible Hours
Overlap with UTC-5 for 4h a day but otherwise hours are flexible.
Employee Perks
Stipends for both a coworking space and home office, a learning budget, and English classes.
International Holidays
Take off holidays your country celebrates.
Vacation and Time Off
5 weeks PTO (includes vacation and sick/personal time) plus days off for holidays in your country.
Annual Retreat
Annual retreat for in-person time. The last one was in Punta Cana, D.R.
Paid Open Source Time
Paid open source time for passion projects.
Why OmbuLabs?
At OmbuLabs we work on challenging projects for established companies. We're a boutique agency, helping everyone from small development teams to large-scale companies. If you work for us we want it to be as enjoyable as possible.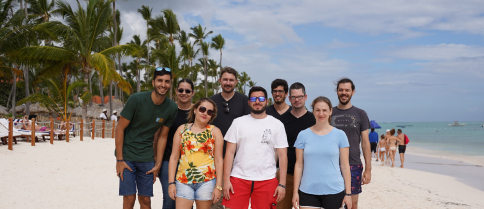 We care about creating a good work environment.
Fostering a supportive and inclusive work space while being remote is very important to us, so we hang out on Slack and pair-program often. You'll be encouraged to avoid working overtime, you will receive help whenever it's needed, and you will have time to work on open-source projects and career development activities.
Recruitment Process
We practice transparency, openness, and balance.
We are always open to suggestions to improve our communication and processes, and we value giving and receiving feedback that helps us become better.
Working with Us
We care about each other and about the quality of our work.
We believe there is great importance in fostering a diverse workplace. We are actively working to build diversity on our team. OmbuLabs does not discriminate in employment matters on the basis of race, color, religion, gender, national origin, age, military service eligibility, veteran status, sexual orientation, marital status, special needs/conditions, or any other protected class.
Meet our Team
We live our values.
We value interesting challenges more than high-paying contracts. We are in the problem-solving business for real companies. We won't work on cool-sounding solutions looking for a problem that doesn't exist. Read more about what we value and how we prioritize our work.
Our Values
OmbuLabs on GitHub
Here's a sample of our open source projects.