OmbuLabs Named Among Clutch's Top 1000 Global Companies for 2022
At OmbuLabs, you are not just working with a premier software boutique when you work with us. You are collaborating with compassionate individuals, change-making innovators, and industry leaders who understand your challenges because we've faced them. More importantly, we know how to solve them.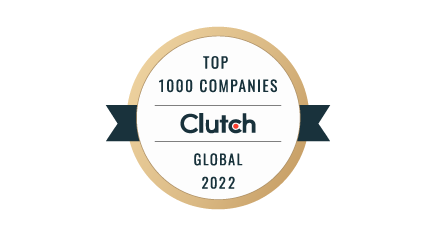 To finish this hectic yet fantastic year (2022), we are super excited to announce that OmbuLabs has been listed as one of the 2022 B2B leaders on Clutch opens a new window . For those unfamiliar with their work, Clutch is an independent online reviews platform that conducts necessary B2B industry research. They employ a unique verification process to determine the legitimacy of the sources sent to them and publish them on the platform.
For a business to be named a 2022 Clutch 1000 company, they need to do an exceptional job for clients to submit thorough and honest reviews that can pass a strict verification process. These submissions are then published as reviews on Clutch's website to be shared with other prospective clients.
It is a privilege and an honor to be on the 2022 list. We wouldn't be here without our amazing clients. You've been a part of our success, and we wanted to dedicate this award to all of you. Here's an excerpt from the reviews we've received so far on our profile on Clutch opens a new window :
We were satisfied with OmbuLabs' work; they left us a roadmap opens a new window that we could use to continue the upgrade process ourselves. In addition, their team made significant progress in updating our versions of Ubuntu. They exceeded our expectations in a lot of ways.

Shane Rock, Senior Site Reliability Engineer, Flexera opens a new window
Create the next big thing. We will support you and your team during your entire project's life cycle with our full-service software development.
Drop us a message opens a new window about your project, and let us know how we can help.